Home - Cartoons - Photography - Sculptures - Flat Art - Computer - Other - Stuff
---
Return to index...
Old News



7 December 2008
Panorama Creatures at the Pony Club Gallery

Ok, so it's been over a month without posting. I've been (very) slowly reprogramming my backend to show my various images, but with various distractions, it's been proceeding slowly.. In the meantime, let me just mention that I have a couple things in a group art show at the Pony Club Gallery, at 625 NW Everett #105, in downtown Portland, Oregon, December 4-16, 2008. I made the window display, which you can see any time, and also there's one drawing, among a ton of other people's neat work on the walls inside.

The window display features my first non-Euclidean cartoon, drawn onto a styrofoam ball, which I also photographed and made immersively viewable online..


18 October 2008
Tales of Inertia #2



After only about a 6 month delay, I finally finished Tales of Inertia #2. It contains Incident at Red Bone Peak, a 24 hour comic I did in April 2008, and also Moonshine, the sequel to Seaside Retreat, from issue 1.
26 July 2008
More photos, and the Zine Symposium..
| | | | |
| --- | --- | --- | --- |
| | The Portland Zine Symposium is coming up again this year, on the weekend of August 23 and 24. I'll once again have a table of my various stuff. Hopefully I'll stop being lazy about drawing and actually complete another book before then!! | | Some recent stuff on my flickr page... |
30 June 2008
Fruit and the Department of Skateboarding
| | | |
| --- | --- | --- |
| Here are some goofy food photos that I've made recently.. | | And here are a bunch of photos from the Pdxstrobist meetup at the Department of Skateboarding on June 25, 2008. What I learned: I cannot fire my flashes in my D300's 5 or 6fps continuous shooting mode with skyports and definitely not with Nikon AWL! Action shots have rapidly changing focus areas which my D300 still has trouble keeping up with, especially when using off camera flash, making me miss shots! |
12 June 2008
Salmon Street Fountain
I've been really lazy about putting content right on this site, instead going the easy route and posting on Flickr, but anyway, here's the famed Salmon Street Fountain during the Portland Rose Festival. The fountain has jets like this for a while then changes to a different water pattern coming from different jets. A source of great revelry on hot days in Portland.

You can see the Hawthorne Bridge, and also in the distance to the left is Mt. Hood.

Click for quicktime, and if that doesn't work for you, you can view immersively with fieldofview.com shockwave.
Also, you can visit this image on flickr, or see an alternate projection of this image here.



Fame and Glory
I can hardly believe it, but the image of mine below has been viewed over 160,000 times in 3 days!!!





25 May 2008
Panorama Projections
Recently I finally got around to implementing a panorama projector that can project onto any flat-faced polyhedron. Before, all my panoramas were welded to a 30-sided rhombic triacontahedron, but now the field is much wider. The unwrapping mechanism in the projector I'll be integrating into my Laidout software. On Flickr, there's been a flare up up panorama projecting onto polyhedra. You can see my projections here. Some others doing very interesting similar things are Seb Perez-Duarte, and David Swart.





4 May 2008
Busy, busy, busy!
The last few weeks have pulled me in all kinds of different directions, so I've been a little lazy with updating this page. I did take lots of photos, so you can click below to see some shots from a Pdx Strobist meet-up, where I took my first ever glam shots (I just have mixed feelings about that), a parkour clinic in northern Washington, then the Stumptown Comics Fest. Then, of course, there's lots of various side projects in addition to my full time day job. I took panoramic photos of all these events, but it'll take me a little while to catch up!





8 April 2008
I've now basically recovered from the 24 Hour Comics Drawpocalypse at the Cosmic Monkey. Something like 25 or so people started at 10am Saturday, and about 15(?) were left alive the next day. Some had finished their 24 page comic many hours early and left!! Lots of great work was made. I finished with 2 hours to spare. Click the images below to see my comic. You can also see my first 24 hour comic here.





and so on...
29 March 2008
24 Hour Comics Drawpocalypse

Yes, it's time again for a 24 hour comics masochism marathon!! The task is to create a (finished) 24 page comic in 24 hours. I did one in 2005, and it's time to see if I can still stay up 24 hours straight, and live to tell the tale. See a promo staring 24 hour superstar David Chelsea here.

This will be at the Cosmic Monkey this Saturday, April 5, 10am to 10am Sunday. Be there or be asleep!!


At Lick Observatory

Nestled atop Mt. Hamilton just east of San Jose, Lick Observatory, which has nothing to do with tongues, is home to several telescopes, including this gigantic refractor.

This is one of the neatest interiors I've seen in a while. Visited last Decemeber, but hadn't been there since I was a kid, and it's still neat! There's a very windy road leading up to it, and I have childhood memories of trying to spot the wrecked cars that had driven off to their doom whenever we drove up.

This photo is of the first telescope built on the site, which was constructed between 1876 and 1887. The body of James Lick lays entombed beneath. Beat that for ambiance!! The entire floor that you see raises and lowers so that the eyepiece of the telescope can be at eye level for the astronomers. You can see the counterweights along the walls. The telescope itself is balanced so that a single person can just grab hold of it and drag it around to point it at the right place.

All in all, a neat place to visit.

If this quicktime doesn't work for you, you can view interactively with shockwave.
Also, you can visit this image on flickr, or see an alternate projection of this image here.





15 March 2008
Iraq Body Count Panorama

This was an installation at Portland State University in Portland, Oregon, March 2008, done by iraqbodycountexhibit.org. You can just make out a thin strip of red flags in the distance. A sign nearby reads: "Each white flag represents at least 5 Iraqis, Each red flag represents 5 Americans killed as a result of the 2003 invasion of Iraq."

As of March, 2008, iraqbodycount.org estimates about 85,000 civilians have died from violence in Iraq since 2003.

Click the image for interactive quicktime, or you can view interactively with shockwave.
You can also visit this image on flickr.





11 March 2008
The Quiet Before the Storm

What a way to go!

My second go at an enfused panorama. Much more ghosting that my first attempt, but pretty easy to clean up. If you don't have quicktime, you can try to view interactively with shockwave.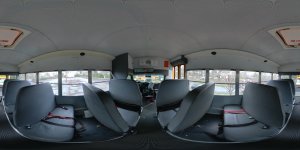 7 March 2008
Gimp Tricks
So I finally got a feature accepted in the mainline Gimp that allows you to temporarily see through sections of an image as you try to rotate, scale, shear or otherwise transform. This has long been one of my main irritations whenever I use an unmodified Gimp to edit images. You too can use this if you use the subversion development version of the Gimp, or you can use my patch for Gimp 2.4.5. Many thanks to the Gimp developers for accepting this feature.
3 March 2008
24 Hour Comics Jam Panorama

This was one of many such events hosted at illustrator and graphic novelist David Chelsea's place, in July of 2006, in the spirit of of 24 Hour Comics day, where cartoonists have 24 consecutive hours to create a finished 24 page comic. I've managed to get one done on time, not this time around, but the previous year. At this jam, I opted to chicken out and just take photos. Surprisingly enough, some of these comics even turn out pretty good!

Photographed with 30 photos from this thing.

Click image to view interactively with quicktime, or you can try to view with a shockwave viewer.


Your Chance to Harass Tom at the
Stumptown Comics Fest

I will once again have a table full of stuff at this year's Stumptown Comics Fest. It's happening many months earlier this year all of a sudden, and I hope to have at least one new book, as well as funky new photo balls. I might be able to pull that off, if I get properly "busy"!


2 March 2008
Get Your Walnuts Here

This is another of my older panoramas from 2006 made with 30 photos taken with this thing. The tree is a huge black walnut tree near Lincoln High School in Portland, Oregon. This kind of tree is great to have near curbs, because the huge walnuts that drop off the branches will often make a memorable resonant thump on unsuspecting cars and passers by.


Click image to view with quicktime or view with shockwave.
Added some more really old cartoons to really old cartoon gallery

Lately, I've been screwing around with my new camera and fisheye lens instead of drawing cartoons, so I thought I'd post some more of my oldest cartoons to my old cartoon gallery.


Read older news.....
---
Do you like my work? You can support it by donating, or by buying stuff!
---
Home - Cartoons - Photography - Sculptures - Flat Art - Computer - Other - Stuff