My current panorama mount

My first panoramic
camera mount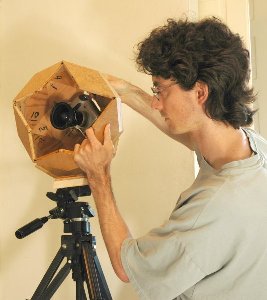 Methods
Currently, I use a Nikkor 10.5mm fisheye lens on my fancy new Nikon D300, to take 6 shots around, one up, and one down. Sometimes I can get away with 4 around, one up and one down, but it's harder to get full coverage with handheld. When not shooting pictures handheld, I use a simple homemade camera mount that cost a few bucks in parts. Then I use automatic stitching software called Hugin, and usually some final touchups in the Gimp. You really don't neeeed a high end camera and lens to make photos like these, but it does make it easier! The D300, for which I blew a very noticeable chunk of savings, is a really nice camera indeed! It has a different kind of sensor (cmos) than my D70 (ccd sensor), making it less prone to purple and yellow fringes around high contrast areas, which is VERY convenient. The D300 has a zillion other useful features that make taking photos in a hurry easy. It used to take me 10 to 15 minutes to take enough photos for a panorama. Now it takes about a minute! If only the fisheye lens had vibration reduction! Someday I'll get a camera with a full-frame sensor to make low light photos better... Photography costs too much money.


Older methods
In the beginning, before I knew about automatic stitching software such as Hugin+enblend, I made spherical panoramas with the camera mount shown at left (which cost me about $10 in parts), plus a 2 megapixel point and shoot camera with about a 70 degree field of view. This allowed me to take 30 photos, each photo corresponding to a single face of a 30 sided rhombic triacontahedron. Then, I would use my program Laidout to arrange the 30 separate photos approximately into a net. Then, I'd use the Gimp to manually touch up the 60 edges, usually very labor intensive! Also, owing to my cheap little camera, most of my older panoramas suffered from the camera often focusing on the mount, rather than the scene. Finally, the net could then be printed out, cut, and folded up. See examples below.
While I now use a less imposing mount, it is still much cooler to have a triacontahedron mount.